Participants
Participants 2017-2019
Dental Robotics
Dental Robotics is developing new technologies for improving consumers' dental hygiene. Dental Robotics is making dental care easier than ever.

Dutch Analytics specialises in data integration and data analysis issues for major industrial players. The company has developed its own software platform that can integrate enormous quantities of data and facilitate the development of analysis models while operating in a client environment.

Since July 2017, Felyx has been offering an environmentally-friendly mobility concept in the form of shared e-scooters. Users can rent a fully-electric shared scooter via an app to travel efficiently from point A to point B. Felyx is starting in Amsterdam with 108 e-scooters and hopes to quickly expand its fleet and availability.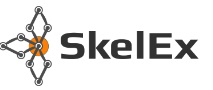 Skel-Ex develops and produces industrial exoskeleton harnesses that reduce the fatigue caused by repetitive movements. The Skel-Ex technology makes the wearer's arms feel weightless, resulting in a proven decrease in muscle movement and fatigue. Skel-Ex is focused on increasing worker productivity, preventing ergonomic injuries and reducing injury-related personnel expenses.

Wolk, the Dutch word for 'cloud', prevents hip fractures using a portable airbag that protects the hip in the event of a fall. The patented technology was developed in cooperation with the Delft University of Technology and has been tested at various care facilities. The simple and lightweight design ensures that Wolk can be worn unnoticed under clothing.

ZIVVER offers a technologically advanced and user-friendly solution for secure e-mailing, chatting, and file sharing. When you send private and sensitive information via ZIVVER, you reduce the risk of human error. It allows you to recall messages and notifies you immediately of any delivery failures. ZIVVER ensures that no one – including hackers – can access your data. You are in control of your data and triply protected: before, during, and after you share it.